Hamburg Airport takes pioneering role in reduction of CO2 emissions
The building blocks of CO2-neutral airport operations are: reduced energy consumption, innovative technologies, conservation projects, and high quality offset certificates. At the end of 2021, Hamburg Airport became the first major commercial airport in Germany to achieve this goal of CO2-neutral operations.
Despite the economic difficulties arising from the coronavirus pandemic, Hamburg Airport is pursuing its climate protection goals as a top priority. The airport is benefiting today from the innovative environmental work that has already been undertaken over a more than three decades. This successful early environmental management has enabled Hamburg Airport to achieve the ambitious target of CO2 neutrality. 
Hamburg Airport: CO2-neutral airport operations
Aviation is one of many determinant factors on the path towards a CO2-neutral, climate-friendly future. In 2018, global air traffic contributed 3.01 percent of worldwide greenhouse gas emissions (Aviation Climate Protection Portal). Hamburg Airport had made its aim the minimisation of the environmental impact of airport operations. For many years now, we have been adopting the latest technologies to save energy wherever possible.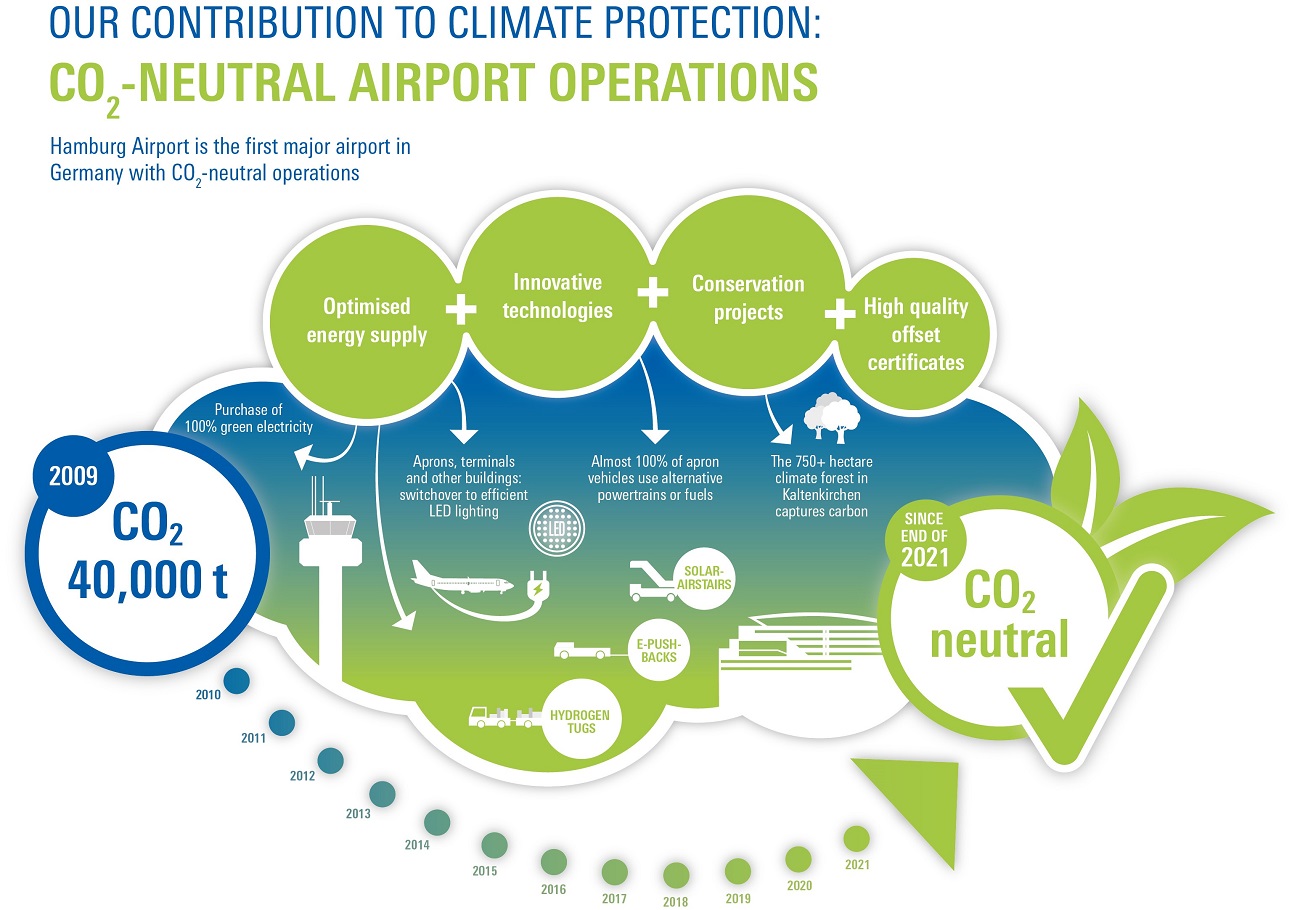 Hamburg Airport
Our contribution to climate protection: Co2-neutral airport operations
Always one step ahead – for the sake of the environment
Environmental protection has been a focus of Hamburg Airport for decades already. As long ago as 1999, Hamburg Airport was the first airport anywhere in the world to achieve both EMAS and ISO 14.001 environmental management certification. As such, Hamburg Airport has long been at the vanguard of airport activities in the field of environmental protection. Since the end of 2021 Hamburg Airport has fully CO2-neutral operations, making it the first airport in Germany to achieve level 3+ certification with Airport Carbon Accreditation.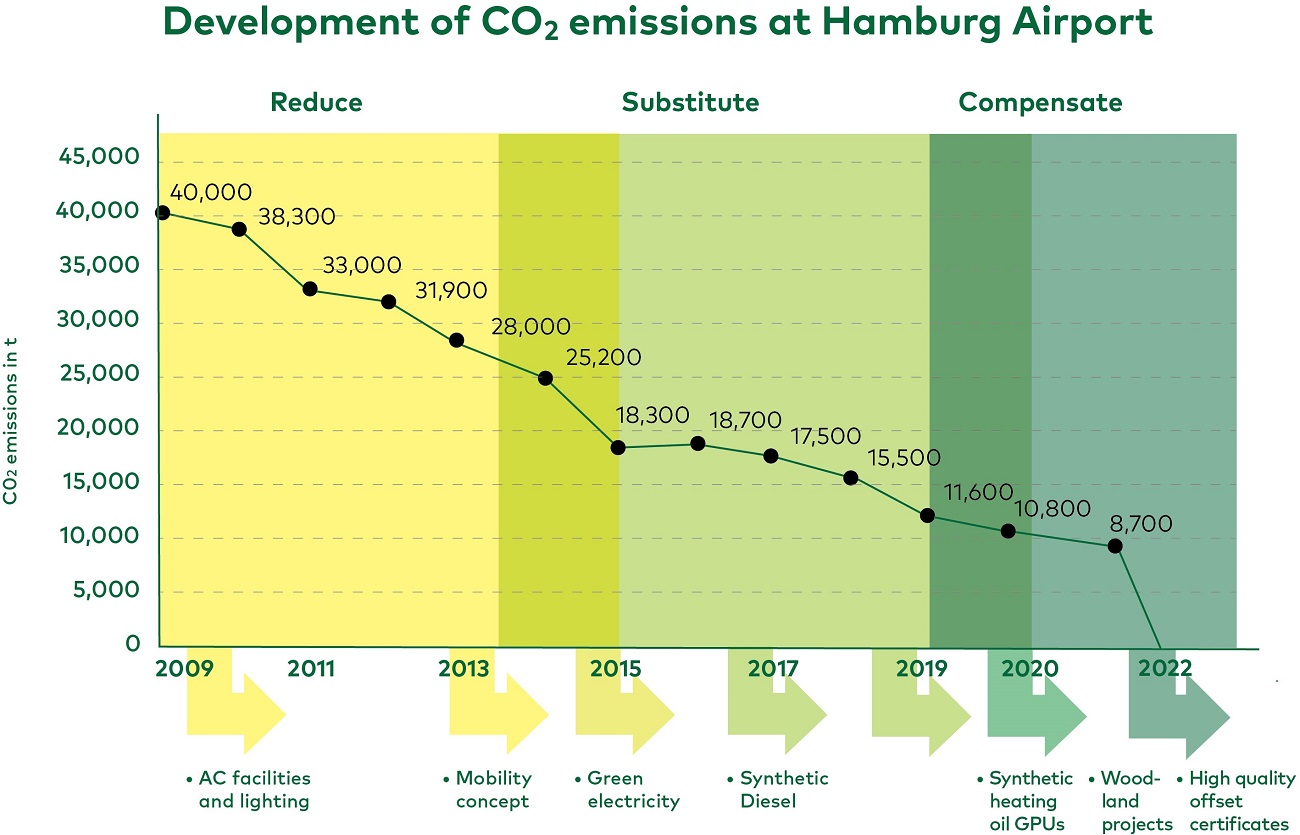 Hamburg Airport
Development of CO2 emissions at Hamburg Airport 2009-2022
Less energy consumption and fewer CO2 emissions
Hamburg Airport has reduced its annual CO2 emissions by 70 percent since 2009 as a result of its own efforts. Other measures such as the airport's own forest project in combination with offset certificates enabled the airport operator to achieve a reduction of around 80 percent in its annual CO2 footprint, compared to 2009, by the end of 2021. In order to fully compensate for the remaining CO2 emissions, Hamburg Airport invests in high quality offset certificates. This is only a transitional measure until Hamburg Airport can eliminate or balance all CO2 emissions by its own actions.

Thinking globally: high quality offset certificates
High quality offset certificates support ecological projects that achieve verifiable reduction of CO2 emissions within the global cycle. Our aim: by achieving further CO2 reductions through our own actions, the proportion of offset certificates purchased will be reduced step by step. 
We switch over wherever we can – and will continue to do so
With every new facility, every project and every acquisition, Hamburg Airport has its sights firmly set on climate protection. By investing in state-of-the-art technology, regenerative energies and synergies, Hamburg Airport is securing its CO2-neutral operations for the future. Long-term, we are pursuing our goal of completely eliminating carbon dioxide emissions.